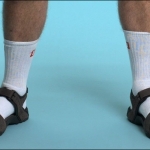 If men can wear socks with sandals surely they can talk about their emotions!
Today we launched our website live on radio with Carol and Paul Mott, on NEWSTALK 1010. My high school Principal said I had a radio voice and I do love listening to the radio so what an exciting moment on my first Father's Day.
Our website will continue to evolve and be updated thanks to your feedback. In the meantime keep up the conversation, talk about your feelings, and if you're feeling mentally unwell let your family and your doctor know. Help is available to you.